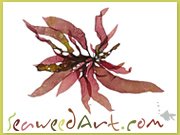 The SeaweedArt greeting cards that appear on my Home page are suitable for framing and would make wonderful unique gifts for all of the ocean nature lovers on your holiday gift list. The finished size of each card is 5 x 7, and sets of two, three or four would make excellent wall groupings.
I know there are many types of frames available online and in stores, including glass and metal, but I personally prefer Wood frames for my pressed seaweed collages. I feel that they best complement the natural feel of the art work and I especially like to choose colors that enhance and bring out the vivid colors of the seaweed. Pale pinks, maroon, tarragon green and warm browns are all excellent choices.
The next step is to choose a coordinating mat color, one that will work as an accent. This a highly subjective decision because there are so many choices; whether to pick a mat that is the same color as the frame, for a monochromatic effect, or an opposite color that is more of a contrast. It is no surprise that I find the act of framing my work almost as creative as the process of creating it.
There are many resources online where you can read more about choosing the right frame and mat.