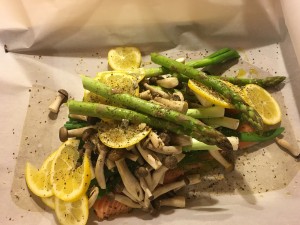 Salmon baked in parchment is quick, easy and above all, the best way to steam in flavor. This recipe lends itself to improvisation, but my vegetables of choice are always asparagus and mushrooms (I prefer oyster and cremini.) Thin slices of lemons, crushed pepper and a sprinkling of herb d'provence are a must. And of course, really good extra virgin olive oil. I prefer lemon infused olive oil from my friends at True Olive Connection in Santa Cruz. Here's how:
Line baking sheet with parchment paper.

Place salmon fillet with skin side down in the middle of the paper; drizzle with some olive oil.  Layer with vegetables and lemon slices and sprinkle with crushed pepper and seasonings of choice.

Fold edges of parchment paper over the fish several times to seal into an airtight packet. 

Place in 400 degree F preheated oven and bake until fish is pink and flakes to the touch, about 20-25 minutes.
To serve, cut open and remove paper and slice. Careful, it's steamy. Serve with a buttery chardonnay. My local favorite is Storrs.
Note: To learn how to choose sustainable salmon options please visit The Monterey Bay Aquarium Seafood Watch.