From palate to palette, one of my favorite restaurants is The Haute Enchilada in Moss Landing, not only because it serves the finest menu of authentic Mexican food on the Central Coast, it also boasts an exquisite collection of local art, luscious gardens and uniquely original indoor and al fresco atmosphere. It is indeed a feast for all of your senses.
I first discovered this hidden treasure when a girlfriend of mine suggested we meet there for lunch. I said, "You mean the Whole Enchilada?" Tucked away on a side street off Highway One behind the Whole Enchilada, I had never heard of the place. Now I can't stop talking about it and it has become the halfway meeting point for me and my friends who live in Monterey and Carmel.
A few Saturdays ago, my husband Bill and I took a leisurely drive down the coast and stopped in for yet another fabulous meal. We started our meal with a trio of house made soups because why not? If you can't decide, have all three!  The selection included chicken tortilla, roasted chile poblano bisque and the soup of the day, which happened to be grilled artichoke. The flavors were balanced and enticing and whet our appetites for more. Since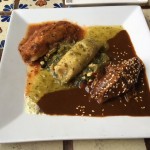 all good things come in threes, we followed our soup sampling with a petite tamal trio of chicken with mole, pork with salsa verde and artichoke & cheese with fire roasted red salsa. All served on a bed of roasted white corn, black bean, cactus salad, red onion, red bell pepper and cilantro. These are just a few choices from a broad menu  showcasing sustainable and organic local ingredients.
We took a break between courses (wine in hand) to visit the art gallery behind the restaurant to soak in the visual delights of local artists that includes a diverse array of  Mayan weavings, hand-blown glass, carved walking sticks and the majestic mixed media "Pre-Columbian" style of art of featured resident artist Luis Solano. (Psst… My SeaweedArt cards are also on sale.)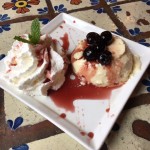 We topped off our meal with a shared dessert of jericalla, which is a cross between crème brûlée and flan topped with amerena cherries and whipped cream. Yes, it was as good as it sounds. Light, fluffy and a sweet contrasting finish to a very satisfying savory meal.
Sated, we were ready for the ride home. As we got up to leave, we noticed the restaurant proprietress Kim Solano and her husband, Luis, seated at a table nearby. Kim always remembers me by name and asks for my girls. When my daughters were both still at home, I would often take them there for lunch and Kim would stop by our table to say hello. That special touch is just as warm as her Mexican hot chocolate.
If you have never visited the Haute Enchilada I highly recommend it. Take your time and enjoy the sights, sounds and tastes. You won't be disappointed. Also, if you are looking for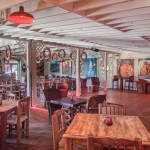 a unique venue to host an event, you might want to consider their social club. Check their Facebook page for upcoming musical performances and be sure to stop in for Open Studios tour October 1 & 2, 11-5. 7902 Moss Landing Road, Moss Landing, CA 831-633-5843.
If you have a favorite local hot spot on the Central Coast or Bay Area and would like me to review it, please contact me.