In Santa Cruz, California the ocean is usually cold year round. Since I always enjoy a good salty soak, especially in my antique claw foot tub, I found a way to experience the healing properties of the ocean indoors. I discovered a recipe for a seaweed rich mineral bath in 100 Organic Skin Care Recipes
courtesy of Santa Cruz aromatherapist Jessica Ress. I mixed up a batch of bath salts and then filled sachet bags I had printed with images of my pressed seaweed. Here's how you can do it yourself.
Materials:
Place salt in large glass bowl. Fold in the lavender buds, spearmint and seaweeds. Add the drops of essential oil. Mix well.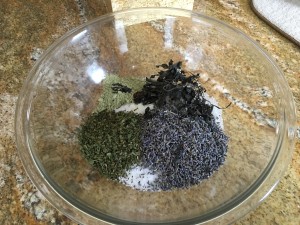 Make a sachet  filled with the salt mixture and toss in the tub. Loose salts can be stored in a sealed jar for up to 6 months. Note: I chose to decorate my linen sachet bags with images from my SeaweedArt pressings. You can use whatever image you choose.
Tie the opening of the linen sachet with the attached string. Immerse the sachet, and your yourself, into the tub and soak for 20 minutes. Shower afterward to rinse off the excreted toxins. Contents of the sachet are good for one bath and the bag can be refilled and reused many times.