We have a very tropical backyard that is bordered with lots of bamboo. Lots. Since it is so plentiful and grows so quickly, I'm always looking for clever and creative things to create and do with it. A while ago my husband Bill made me
bamboo planters
 by cutting the bamboo sticks, filling them with soil and planting succulents.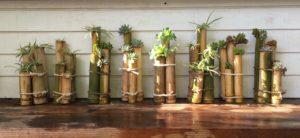 This past weekend I came up with yet another fun idea– bamboo candles. I love everything about this project. It brings the beauty and simplicity of nature indoors using sustainable materials and when the candles melt down, you can refill them.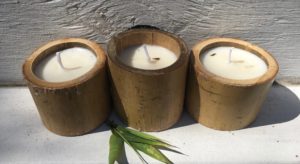 Here's what you need to create your own bamboo candles.
Bamboo sticks. If you don't have them growing in your yard, you can purchase online or at a garden store. Or you can message me and I will send you some!
Wax. I like soy. It burns clean and is safer for the environment.
Candle dyes. I like white candles, but if you want some color you can purchase at craft stores or online.
Candle wicks. I prefer the kind that have metal bottoms and I always get the sticky tabs that help hold them in place.
Candles scents. I like essential oils for their natural, less "perfumy" scent.
Plastic wrap and rubber bands.
You will also need a large Pyrex measuring cup to melt the wax in a double boiler or in the microwave.
Here's what you do:
You will need to cut the bamboo into various lengths. Use a hand saw or table saw. My husband did this for me. You can cut the sticks at the knots so there will be a "floor" at the bottom of your candle. However, if this is not possible, you can create a false, removable bottom with plastic wrap. Yes, it works and will not melt, even with hot wax. Just be sure to completely cover the bottom of the candle and secure tightly with a rubber band as close the edge of the bottom as possible. Then proceed to melt the wax in the Pyrex glass measuring cup. I prefer the microwave. Start in 1 minute intervals until the wax is completely melted.
While wax is melting, place wick with sticky bottom in the center of the bottom of the candle. Once the wax is melted, you can add color, if desired, and a few drops of essential oil scent. Lemongrass, citronella and plumeria are good choices that go well with the bamboo tropical theme and as an added bonus they also help keep bugs away. Stir your mixture with a metal or wooden spoon or a chopstick you might have lying around from your last order of Chinese food. Pour wax mixture into the bamboo container and wait for it to dry. Allow at least four hours before you remove the plastic wrap. Don't worry if there is a little over spill that pools at the bottom of your candle. That happens if you don't secure the wrap close enough to the edge. It will harden and you can scrape off later. Soy wax is very soft and spills clean up easily. Once the candle is completely hardened you can trim the wick to the length you prefer.
For more creative ideas on what to do with bamboo, follow me on Pinterest. Or send me some of yours with some photos and I will feature them here.