I was super excited when I opened the box of raw coconut oil samples from Skinny & Co because I'm a fan of anything coconut and a true believer in it's health and therapeutic benefits. Before I even tried the products I was pleased by the eco-friendly packaging. All of the products are in recyclable glass containers with metal lids, so no plastic pollution there! Plus the packing peanuts were water-soluble and biodegradable. I was also impressed by the Skinny & Co. story and mission. Founded by two brothers who are committed to living and healthy and holistic lifestyle their raw coconut oil (that's right, never heated) is wild harvested from the jungles of Vietnam.
According to their website: "Raw is better. The majority of coconut oils on the market claim to be "cold pressed," but are actually heated prior to the pressing process.This extracts more oil from each individual coconut, yet raises the temperature over 120˚ F and destroys nutritional value. We believe our Nutralock System™ is superior to any other pressing method. Each jar takes about three times longer than other processes and uses 12 coconuts. This is why you can see, smell and feel the difference between our oil and virtually any other oil on the market."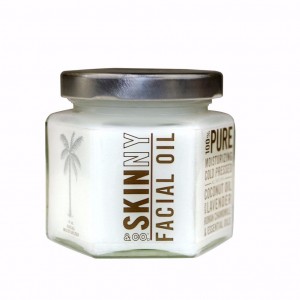 The first product I tried was the facial oil, which acts as a 3-in-1 makeup remover, cleanser and moisturizer infused with the calming and soothing herbs lavender, roman chamomile and holy basil. Loved it! I found it luxurious and creamy and it removed my mascara in a clean sweep. I followed up with the coconut sugar scrub which performs double duty as a facial/ body scrub and low glycemic sweetener. I mixed it with the coconut oil to form a paste and applied to my skin for a natural and gentle exfoliater. I liked how it left my skin smooth, soft and hydrated. I also added it to my nightly cup of turmeric tea and added a splash of coconut milk and a dollop of the coconut oil. It is now an evening ritual which I call my turmeric tea toddy. (Recipe to follow in future post.)
Even though I have used coconut oil based products for years, I was not familiar with the ancient practice of oil pulling. Skinny & Co. has a blend of coconut oil and peppermint essential oil that when used as a mouth rinse, is very beneficial for oral hygiene and teeth whitening. I liked the taste and it did leave my breath minty fresh. Watch this video on how to use it to get the full benefit.
The whipped body butter is one of those beauty products that you have to wonder how you ever lived without it. I use it on my face and body, right out of the bath or shower when my skin is still damp and it is easily absorbed. It also serves as a deep conditioning hair mask and cuticle cream.
I give Skinny & Co.'s line of raw coconut oil products a thumbs up for the following reasons:
eco-friendly packing
great creamy, whipped texture
subtle appealing scents
great taste and therapeutic benefits
reasonable prices
versatility and multi-uses
convenient travel sizes
For more information please visit Skinny&Co.