Disclosure: This post contains affiliate links and I will be compensated if you make a purchase after clicking on my links.
I have always been a big tea drinker. It's not just the taste that attracts me, but also the experience, because so many calming, peaceful rituals are associated with tea.  As Henry James once said,"There are few hours in life more agreeable than the hour dedicated to the ceremony known as afternoon tea." As a foodie and healthy living advocate, I appreciate not only the traditional tea time accompaniments, like tea cakes and tea sandwiches, but also the healing, mindfulness and restorative properties of tea.
Several years ago I read an inspirational memoir that changed my life,  Zhena Muzyka's Life by the Cup:Inspiration for a Purpose-Filled Life. The author shares how she founded her tea company, Zhena's Gypsy Tea, "with nothing but the desire to provide a good and healthful life for my sick newborn son, but I found so much more." She further stated that tea, hope and her active dreams saved her son and along the way, saved herself too. I was so moved by her story that I reached out to Zhena on Facebook and she graciously responded and even went so far as to Skype into a birthday tea party I threw for myself. I am continually grateful for her words of wisdom and encouragement, especially now as I navigate a new phase in my life. I need a lot of self-care these days, and taking a few moments every day to unwind, relax and reflect while sipping a comfy cup of tea is the best medicine ever. Below are two of my favorite "teafood" recipes.
English Cucumber Sandwiches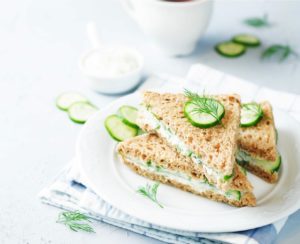 Ingredients: 
1 large cucumber peeled and thinly sliced. For best results use a mandoline.
8 oz cream cheese, softened
1/4 tsp garlic powder
1/4 tsp onion salt
1 dash Worcestershire sauce
1 pinch lemon pepper
fresh dill for garnish
sliced bread of your choice (I prefer white)
Mix all ingredients together and spread evenly on one slice of bread, layer the cucumbers on top and top with another slice of bread. If you prefer, cut off the crusts and slice sandwiches into halves or quarters. Garnish the tops with dill. For another variation, mix cream cheese only with some chopped mint and follow the rest of the directions. Serve with a cup of the classics: London Tea or Egyptian Chamomile.
Italian Wedding Cookies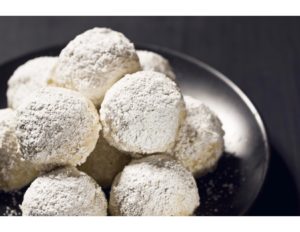 This is a traditional recipe that is usually made at Christmas time by many cultures. I like them year round.  My Italian mother had her own version, which I have included here.
Ingredients:
1 cup butter, softened
6 T sugar
1/2  tsp vanilla
1/8 tsp salt
2  cups all-purpose flour
3/4 cup finely chopped nuts  a food processor or nut chopper works best)
1 1/4 cups powdered sugar
Heat oven to 325º F. In a large mixer on high ( l love my Kitchen Aid)  cream butter, sugar and vanilla until creamy. Reduce speed to medium and gradually add in flour and salt. Stir in nuts until just blended. Chill dough for 30 minutes or until firm. Roll into one inch sized balls and place on ungreased cookie sheets. Bake for 13-15 minutes, until just slightly browned. Cool enough to touch and then roll in powdered sugar. Note: If the cookies are too warm, the sugar will melt, which actually makes them dewy and delicious. If that happens, just roll them again. You want a powdery finish on the cookies. Serve with desert teas like Vanilla Berry Truffle or Carmelized Pear.
Enjoy your tea time. You deserve it. If you have a particular blend of tea or tea time ritual, I'd love to hear from you. Contact me here.