Essential oils have been around since the days of Cleopatra and have recently resurged in popularity and for good reason. They have many healing, therapeutic and cost saving applications– medicinal, household cleaning products, aromatherapy and personal beauty care. I, for one, have always used them to scent candles and my own hand-crafted personal care products like bath salts and scrubs.
What you may not know is that essential oils are not really oils at all; they come from distilling or extracting the different parts of plants including the flowers, leaves, bark, roots, resin, and peels. In Ancient times, Israelites and Egyptians made essential oils by soaking the plants in a carrier oil and them filtering it through a linen bag. Fortunately today you don't have to do that because there are many essential oils available on the market to choose from, however, not all are pure. To make sure you are choosing quality essential oils look for ones that are bottled in small batches, labeled 100% pure and are transparent in their sourcing. I recently discovered Aroma Foundry essential oils. Their purity process follows all of the guidelines to insure the highest and consistent quality.
Below are some recipes for common household products that when made from scratch are safer for the environment and much more economical.
Bug Spray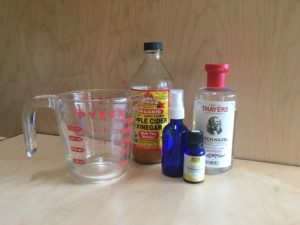 Mix all ingredients together in an 8oz glass spray bottle and apply as needed.
Furniture Polish
1/2 cup sweet almond oil
1/8 cup beeswax pastilles
10-15 drops of lemon or fir essential oil
Heat almond oil and beeswax in a double boiler or wax melting pot until beeswax is completely melted. Remove from heat and add the essential oil. Pour into jar and let cool.  It should be firm enough to dip a cloth into and rub across the top, but soft enough to melt a bit on contact. I made  used the fir essential oil and it smells sooo good and it conditioned my wood furniture with a soft gleam and without any residue.
For more ideas on how you can use essential oils in your home check out these books: